Search Engine Optimization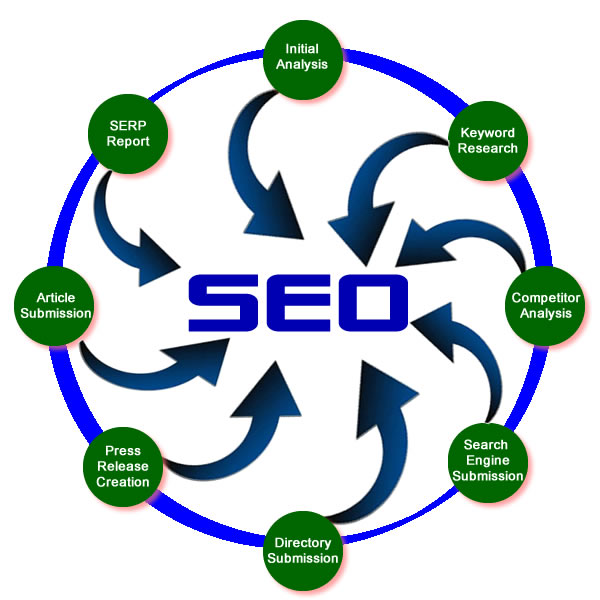 Search Engine Optimization
requires expertise and the proper execution of several steps in order to be effective. Most end users do not have the time to learn this process effectively or the time for continued execution. The following step are the best way to reach a level of SEO that will create better rankings for your website.
Initial Keyword Analysis

Your keyword analysis should include a list of all the possible keywords and keyword phrases that a visitor might use to find your site. Unless you have a huge budget you will want to get creative and do a little brainstorming. You will have a tough time competing for the top keywords, not that they should be excluded but be realistic and try to target some of the ones that others are not focusing on.

Keyword Research

Keyword placement can make a big difference in the overall rankings of your site. It actually does matter where your keywords appear. The search engines have a big job to do. They are trying to provide relevant results from our searches so they use all of the bits and pieces on a website that they can to determine how relevant your site is.

Competitor Analysis

It is important to know what your competitors are doing and how their websites are ranking. There are times when a particular keyword may be very difficult to rank for but a different combination may be easier.  With competitor analysis you can find this information and build your pages accordingly.

Search Engine Submission

Once your website has used effective search engine optimization it needs to be submitted to the search engines to let them know where you are. Your site will go into a list of sites to be indexed. This can take weeks so we recommend that you resubmit your site every 30 days . That way you will always be in the rotation.

Directory Submissions

Directories differ from search engines in that they are more discriminating about what sites they allow to be indexed. They are reviewed by humans and do not use any sophisticated software to index the sites.
You must manually submit your site to these directories taking care to select the proper category for your site and follow all of the guidelines for your submission. Even though submissions to these directories is more time consuming they should not be left out of your overall optimization strategy.

Press Release Creation

A press release lets the media know about an event so that a news agency will write an actual news article in the hopes of promoting your business.

Article Submission

Article Marketing is the process of writing articles either yourself or by using a ghost writer. These articles are then submitted to article directories and hosted on blogs for others to read. This establishes you as an expert about your product or service and more importantly it build valuable back links to your website. Once you have created your articles you will want them posted to your blog so everyone can read them and also submit them to the relevant article directories. This can be done manually or you can use automated article submission software.

SERP Report

A Search Engine Results Page is the page that shows up after searching on a keyword or keyword phrase. The goal of an effective SEO campaign is to place high on this page.