Search Engine Marketing
Many people might think that SEO (Search Engine Marketing) does not work or cost too much to do or they think that the results are not measurable. When SEO is done correctly Google will recognize your effort by sending you more traffic.
Website Background:
I have been a webmaster since 2000 but am also a Low Voltage technician with 30 years experience. While I was working for CPP Alarm and Video I asked them about there website and at the time they had an inexperienced employee working on setting pages and posts with very little results. When I was hired for alarm sales I also took over the website. As you can see from the stats below the website started to grow in traffic substantially over time.
If you click on the images below you will see gradual growth since website posts and pages were optimized and new content added. The work on the website started in 2013 and was consistently worked on from September of 2013 to September 2015. During this time the traffic grew and the leads also grew which allowed me to make more alarm system sales.

If you continue to look at the traffic you see that the traffic does still increase t slower and after 1 year of no further optimization or content the website traffic is now dropping. The traffic will continue to drop and provide no useful sales prospect before too much longer.

It seems that the more time spent on optimization and more content the longer the traffic will grow and sustain. The alternative to providing consistent content is to have a website that converts with a great Landing Page and you can buy traffic to your website.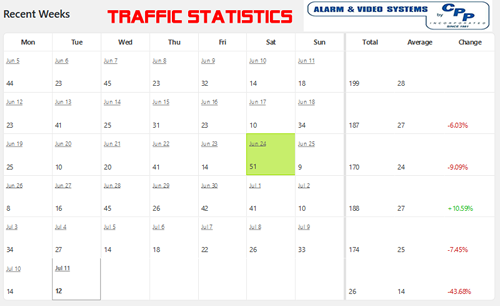 BNDreamMakers can work out a plan for you to have your current website optimized but also have regular new content added to your website. Isn't it time to experience regular high performing leads?
---