The term eCommerce stands for Electronic Commerce which is conducting business on the Internet through a web site. There are multiple steps that are required in order to setup this process. You must have a web site. You must also have a shopping cart on your web site. An often overlooked piece of the puzzle is using internet marketing to have potential customers reach your web site.
There are many online shopping carts available for use online. Make sure to consider key features when making your selection:
•    Can you easily add products
•    Can you easily update pricing
•    Can you add and remove sale items quickly
•    Is there inventory tracking
•    Does the shopping cart integrate with your merchant account
You will also need a way to accept payments through your website. Paypal is the easiest and fastest way to get started. There are no fees to have a paypal account. The only fees that you pay are when you make a sale. The fee is a percentage of the sale. This is the same that you will pay if you have a merchant account. The big difference is that with a merchant account you will also pay a monthly fee. Most merchant accounts are usually on the side of the purchaser in the event of a dispute where Paypal is more biased towards the seller.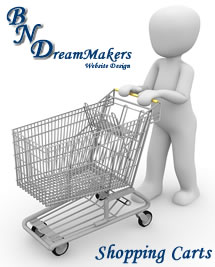 What is a Shopping Cart?
A shopping cart is software that enables a website visitor to choose what products they want and make a purchase. It also allows them to make the purchase of multiple products. This is why it is called a shopping cart. There is a wide variety of shopping carts available. Many of these are free such as Presta Shop. This is a very robust cart with a wide variety of features. It has a variety of modules that can be used to enhance your buyers experience such as:
•    Payment Modules
•    Shipping Modules
•    Templates Packages
•    Marketing Tools

The Presta Shop can easily interface with your PayPal account. I highly suggest getting started with paypal and a free shopping cart solution. Both are very easy to use once they are setup and they are both free. There are a lot of expenses when setting up a website so these are some cost cutting solutions that you will not have to sacrifice functionality.
---