Using Article Marketing for your alarm company website can improve the traffic to your website which will increase sales and also make you the expert in your field. After extensive research I have found that the alarm industry as a whole does very little to educate their customer base. Most websites only focus on getting the customer to fill out an online form for a quote. What I found really disturbing was that when I filled out some of the quote forms as a test, many of the alarm companies never responded to my request. Why do you have a website if no one is ever going to respond?
Online Article Marketing
One of the best ways to effectively improve your organic search traffic is with article marketing. These are a number of ways in how this happens:
Obtain traffic for your additional (long tail) keywords
Improve the visibility of all of your targeted keyword phrases
Improve the awareness of your company and reputation
Increase traffic (targeted) from other websites
Makes your website unique in the security industry
Article Marketing is the process of writing articles either yourself or by using a ghost writer. This establishes you as an expert about your product or service and more importantly it build valuable back links to your website. These are not reciprocal links but one way links. The difference being that these type of links are given more value because there was no exchange between you and another site.
Writing article's can be one of the most effective ways to bring your site up in the rankings and can be completed in a very short period of time when you consider the amount of return for your time.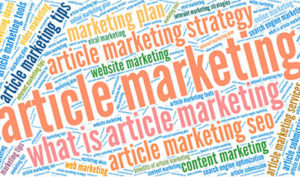 Goals for Article Marketing
Your ultimate goal for your alarm company through article marketing is to write quality articles that are useful and interesting to your market. By writing these articles you will gain traffic for your website and also get published by other websites. Your articles will :
Improve organic search results for your alarm company website
Help attract incoming links to your website
Increase awareness in your area and build your alarm company reputation
Educate your potential customers and make it easier for them to purchase your product
---